The Agusan Marsh – Home Of One Ton Giant Crocodile Recently Captured
The Agusan Marsh is located in the municipality of Bunawan, Agusan del Sur in the island of Mindanao, Philippines.
It is said to be similar to the Everglades of Florida, as it nestled in the mid-waters of the Agusan River drainage basin.
The wetland covers an area of approximately 14,836 hectares. It soaks up excess water from a yearly rainfall of four meters plus nine rivers that slice through the provinces of Agusan del Sur, Agusan del Norte and Compostela valley.
The area harbors unique and pristine habitats like the sago and 'peat swamp forest.' It has a lush wetland trees embellished with vines and bright colored wild flowers and orchids, tranquil lakes, observing the 65 types of butterflies.
Agusan Marsh harbors the most diverse assemblage of reptiles and amphibians and supports the largest remaining population of the estuarine crocodiles (scientific name: Crocodylus porosus) in the country, one giant crocodile that has been recently captured by villagers weighing not less than 1,000 kilograms and a length of 6.4 meters (21 ft.).
It is also believed to give refuge to the endangered Philippine crocodile (Crocodylus mindorensis).
The cool water of the marsh is a habitat to a number of freshwater fish species like carp, catfish and tilapia. Most of these fishes are introduced into the marsh though, there are as well indigenous fish thriving in the water.
The marsh is a valuable habitat for water birds such as species of wild ducks, herons and egrets. During the rainy season, when the water rises to create large lakes, vast number of ducks come to Agusan Marsh to nest.
In the dry months, hoard of exotic and migratory birds can be seen gracefully flapping their wings as they transferred from one tree to another in search for their food. Thousands of these birds come from as far as Japan, China and Russia to escape chilly winter winds of Northern Asia.
Over 200 individual species have been known to spend at least part of the year in the marsh, making it one of Asia's most important transit points for wild birds.
Among those that take refuge are the rare Oriental darter (Anhinga melanogaster), purple swamp hen, the threatened Philippine hawk eagle, spotted imperial pigeon and rufous lored kingfisher.
Exotic flora and other endangered species like the dinata (a soft shelled giant turtle) and sailfin lizard also exist in the wildlife sanctuary, which is declared as a protected area by the government during the time of former President Fidel Ramos.
Some 42,000 hectares of the marshlands has been declared a World Heritage Center site by the United Nations Educational Scientific and Cultural Organization (UNESCO) as the Agusan Marsh Wildlife Sanctuary, "a center of floral and faunal diversity with seven habitat types."
The protected area is so huge that several floating communities of indigenous people thrive and made their permanent homes deep within the marsh, living on floating homes which are mostly ethnic Manobos.
Their small houses made of bamboo and nipa lashed to hardwood logs freely rise or fall with the level of the marsh itself.
Agusan Marsh is one of the largest and the most contained freshwater catch basin wetland in the Philippines. It stores more than 15 percent of the fresh water resources in the country.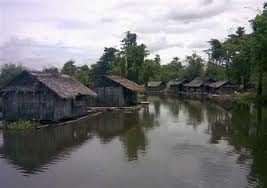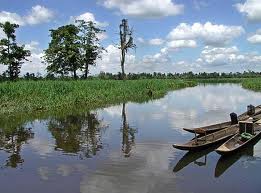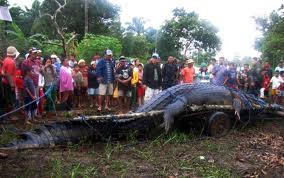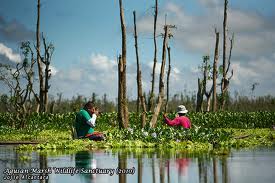 Tagged as: agusan marsh wildlife sanctuary, agusan marsh crocodile
Comments
comments
This entry was posted by Affleap on September 16, 2011 at 3:30 pm, and is filed under Environment. Follow any responses to this post through RSS 2.0. You can skip to the end and leave a response. Pinging is currently not allowed.