The fight as promised by Pacquiao would not last the distance but the fight turns out to be a sweet revenge by Marquez.
(Blow by blow account)
Round 1:
Nice exchanges between two fighters but no damaging blows landed from each fighter. Pacquiao is more aggressive as promised than Marquez and as usual the Mexican warrior relegates his counter punching stance against Pacquiao's aggression.
Pacquiao's round (10 – 9)
Round 2:
Pacquiao is more aggressive this time and landed more good shots to the face of Marquez but Marquez maintains his counterpunching style and patiently waiting to land a big shot on Pacquiao.
Pacquiao's round (10 – 9)
Round 3:
Marquez throws overhand left. Pacquiao charges with a right that lands. Good left by Pacquiao. Counter left by Marquez. Left uppercut to body by Marquez. Big right hand from Marquez landed on Pacquiao's right temple and Pacquiao is down for the first time. Pacquiao got up and Pacquiao continue his charge by a landing a right hand of his own before the round ended.
Marquez's round (10 – 8)
Round 4:
Marquez lands with a high left. Marquez follows with a straight right. Pacquiao not in huge hurry to engage here. Pacquiao lands a jab, but Marquez makes him eat two hard rights before the bell.
Marquez's round (10 – 9)
Round 5:
Pacquiao drops Marquez with hard left. Incredible round. Marquez takes eight count. Pacquiao is at his most dynamic, battering Marquez with set-up lefts. Hard rights. He had Marquez cornered twice and wailed on him.
Pacquiao's round (10 – 8)
Round 6:
Big left snaps Marquez head back. Marquez missing now. Marquez's nose is bleeding and appears it might be broken. He's breathing with mouth wide open. Hard right by Marquez. Jab by Marquez. Pacquiao lands a right. Marquez follows with wicked hard right as Pacquiao was moving forward. Pacquiao's out, unconscious not moving, fight is over.
Marquez wins by knockout at 2:59.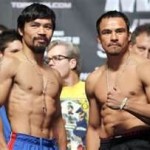 .