Based on Philippine experience, mangrove areas are fast diminishing according to the Department of Science and Technology (DoST) and the Philippine Council for Agriculture, Resources, Research and Development (PCARRD).
It was noted that in 1918, that areas covered with mangroves were about 450,000 hectares but it has dwindled to an alarming rate of 140,000 hectares in 1991. Mangrove, locally known as bakawan offers countless benefits to man and the environment.
The presence of mangrove forests along the coastline serve as a buffer for any tidal wave or tsunami eventualities aside from the being the best sanctuary of marine life such as mussel, crabs, a variety of fishes, reptiles and wildlife.
Mangrove is a valuable source of timber, firewood, charcoal and medicine. The depletion of the area was attributed to deliberate and excessive timbering and firewood collection which was the chief source of fuel for bakeries aside from converting them into salt beds and fishponds.
The deforestation of mangroves has led to the occupation of people and converting the areas into communities whose livelihood mostly are fishing and sea farming.
The DoST-PCARRD has funded a program about the "Feasibility of growing mangrove species along a low lying creeks" aimed to cover the the depleted mangrove areas.
The Ecosystem Research and Development Bureau together with the Department of Environment and Natural Resources (ERDB-DENR) to implement the program.
Five mangrove species were considered namely: dungon lati, tabigi, bakawan lalaki, bakawan babae and langarai. They have started the seedling propagation up to 3 months prior to planting.
A mangrove experimental forest were set up in a freshwater creek in Quezon province. Among the mangrove varieties: Dungon lati and tabigi performed best in terms of height.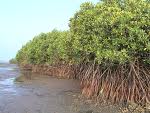 Actual field observation showed that all mangrove species were capable of growing in freshwater creeks, a condition different from their saline natural habitat.
It is preferable to plant mangrove trees during dry season rather than wet season because as water logged deeper it has also inhibited the growth of the seedling.