Chinese shop owners are embarking in a double standard way of marketing their goods. One for the hidden and the other for the unhidden.
In China, what is embarrassing is hidden from public view especially with this time of the year where World Exposition is now being held in Shanghai and they are expecting to attract 70 million visitors to the event.
Long before the event has to take place, government inspectors had already ordered shop owners selling pirated music and movies to keep away with their illegal goods during the six month exposition that started last May 1, of this year.
However, shop owners have their own way of complying the order by dividing their store into two parts to accommodate the hidden goods and the unhidden respectively. The hidden are those contraband CDs and DVDs still proliferating with no signs of slowing down their illegal but profitable business, whose stores are even frequented by Americans and European customers.
Intellectual property rights experts are disappointed by what to be a farce crackdown by the Chinese authorities. However, Shanghai city officials insisted that in their crackdown they have closed 3,000 shops selling pirated music and movies.
They also strongly denied encouraging stores to do the covert way of running their businesses, though they said that it was not a new phenomenon that they would not get away with it.
Douglas Clark, a lawyer at Lovell and a specialist in intellectual property rights law in Shanghai office, says that counterfeiting here is rampant. "These are not fly by night operations, the only way these guys can get away with this, if they are protected," he added.
Despite the fracas, there is one important development that is going on that may cut down the sales of contraband CDs and DVDs in China.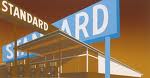 Many Chinese youths who are mostly patrons of these products are shifting their interest in searching pirated music and movies on the internet where countless websites are offering music and movies free download.
Qi Wen, a Chinese travel agent has declared proudly,"I don't even buy DVDs anymore. I usually watch the movies online or download them to my computer, it's fast and simple."