The mega fight negotiation that has been going back and forth these past weeks between the Manny Pacquiao and Floyd Mayweather jr. camps, it has indicated that there's no breakthrough yet that the fight could be happening anytime soon.
However, there is an unprecedented effort from Manny Pacquiao that he is willing to reduce part of his purse just to make the fight with Floyd Mayweather Jr. a reality. This could have been an ultimate option from the pound for pound king to resolve the issue..
In the initial information received by the Pacquiao camp, Mayweather Jr is asking too much money for the fight that the total revenue that may be generated from the fight, would not be enough to accommodate them both for the purse.
If Pacquiao sticks to the 50/50 sharing, and Mayweather is not willing to settle anything less of what he is asking for. Most likely the fight will not happen.
Pacquiao wants to save the current negotiation before it could get out of hand. He has counter suggested his willingness to reduce his purse if necessary just to push through the fight.
For the sake of the sport and the boxing fans around the world who have been waiting for their much awaited clash a reality, is now of prime importance to Pacquiao.
Pacquiao has yet to inform his promoter, Bob Arum, about his proposal.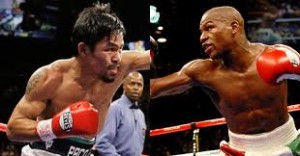 .