So many stories have been written about the Manila bungled hostage crisis fiasco since it has happened but passing the blame about of what had happened does more harm than good and it can be of no benefit to anyone this time.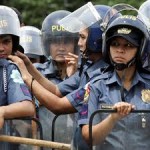 With eight lives of Hong Kong nationals that had been lost, it is a sad event of the nation's quest to overcome of not ending the crisis sooner without a bloodbath. Though the incident could be considered as an isolated case, the Filipino people could be asking of where it has gone wrong and how it has been mishandled?
Can the law enforcers be readily dependable if something worse than the recent hostage taking will happen in the near future? Well, the bottom line is, probably the government need to institutionalize the Philippine National Police (PNP), where the Filipino people could count on and look up the police organization into a bankable force to reckon with in handling of any kind of emergency crisis.
The police organization has to be professionalized into a lean but an effective force and not what we have usually seen on TV for any police operations. Sad to say, that it has been always an overkill in the execution of their work and that they always seemed to overdo things that is not actually necessary.
To be professionalized it has meant to be that the police organization must be morally high, effective, efficient, highly trained, abreast in any latest training techniques and well rounded.
To be professionalized, it shall be free from the influence of politics, free from scalawags in their own ranks in order to preserve the prestige and credibility of the organization as the protector and not the persecutor of the Filipino people.
What we need are men and women whose competence is beyond question; whose dedication to serve is beyond the call of duty; whose integrity is unquestionable; whose loyalty is in accordance to the Philippine Constitution and Filipino people's aspiration of peace and order; and whose image as protector and not the source of human rights violations and police brutality; and most of all it has to be oriented foremost with high regard in saving innocent human lives in any of their operation.
Their pay and remuneration should be standardized and their selection is stringently enforced by the government. To erring police personnel investigation and dispensation of justice in handling their cases must be swift and the price must be high for deterrence.
To men and women in uniform who had perform their job honorably and excellently well, due recognition should be given to them and which could be the role model and a source of inspiration for the Filipino youth to emulate.
If the reforms of the police organization can be done of what have been outlined, it is only then that we can be able to see an efficient and an elite national police organization that every Filipino can be proud of.