After Tiger Woods' marriage was officially ended, he seems to slowly came back from his old form as player number one in the world when he opened at Barclay with a 6 under 65, his lowest score of the year.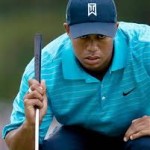 It was Wood's first time that he bounces back in his game by leading its opening after rounds of PGA tour since the Tour Championship last September.
He shares now the lead with Vaughn Taylor. They have a one shot lead over Australian Adam Scott, Brian Gay and Ryan Palmer.
"It's exciting to hit the ball flush again," Woods said. His performance at Ridgewood County Club, Woods hit all but one fairway and putted for birdie on all but two holes.
While he hit his driver only twice, they were two of his best shots of the day, including on the 291 yard fifth hole, where his drive landed pin high and settled 15 feet away.
Woods was asked if it was just a coincidence that he has now recovered soon after his divorce has officially ended, "I can't really say that's the case," he said. "As far as golf, it was nice to put it together."
The last time Woods' was on top of his game after any round of any tournament was when he won the Australian Masters on November 15, less than two weeks before the scandal broke out.